Forestry TEP playing a key role in Forest Digital Twin Earth Precursor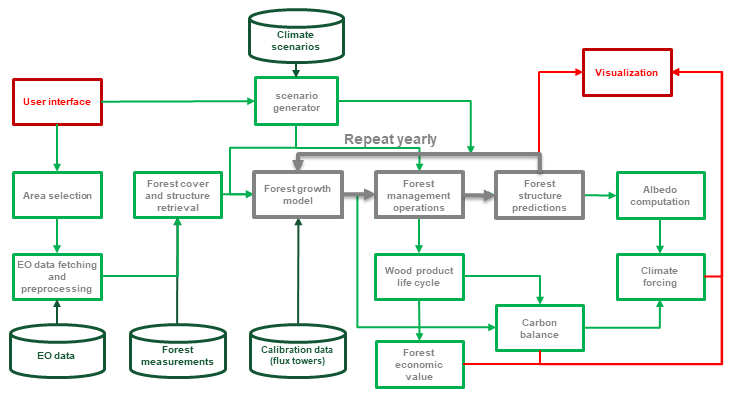 We continue our blog series of projects utilizing Forestry TEP by introducing a visionary project aiming to lay foundation for a digital replica of forest ecosystems. The Forest Digital Twin Earth Precursor (Forest DTEP) project (2020-2021) is funded by the European Space Agency (ESA), and it is part of ESA's Digital Twin Earth activities. The project is coordinated by VTT Technical Research Centre of Finland, with six partners from Finland, Germany, Poland and Romania.
Last year ESA launched the Digital Twin Earth activities, with the aim of utilizing the full power of artificial intelligence (AI), cloud computing, Earth science and modelling as well as Earth-scale environmental, societal and economic data to build a digital copy of our planet. This digital twin of Earth could be used to improve our understanding on the behaviour of Earth systems in the changing environmental conditions and under different management strategies to provide actionable insights for scientist and decision makers.
The Forest DTEP is one of the six Digital Twin Earth Precursor projects funded by ESA. The project aims to prototype a digital twin of forest ecosystems using existing scientific knowledge and capabilities. Earth observation and auxiliary datasets, AI and cloud processing, are used to determine the structural and biological properties of forests. This information is subsequently used to initialize a set of forest ecosystem models that include processes above and below the ground. This will allow modelling of forest ecosystem development under varying environmental and anthropogenic conditions. The project will also develop new interfaces and visualization tools, making the cloud platform easily accessible to end users.
Overall, the project aims to:
Analyze the existing capabilities in industry and science to implement Digital Twin Earth for forests
Prototype an example of Forest Digital Twin Earth system
Prepare a roadmap for future that gives perspective of requirements in terms of infrastructure, science, data and connecting the present to what will be achieved in future
The Forestry TEP platform plays a key role in the prototyping of the system, serving as the main processing engine. The Forest DTEP interface based on JupyterLab will connect to Forestry TEP via the REST API, accessing the processing software available as Docker modules. Output data files will be created on the Forestry TEP with links provided for the user for download or visualization. The envisioned prototyping approach highlights the flexibility and the variety of ways Forestry TEP can be utilized and the benefits of the Docker based approach implemented on the platform.
Overall, the Forest DTEP project further illustrates the diversity of benefits that platforms like Forestry TEP can provide, when integrated into data processing, analysis and visualization systems. The project helps also to develop the capabilities of the Forestry TEP platform, to meet the needs of Earth system modelling community.